Career Center: At A Glance
Administration:

Enrollment: (updated 9/2022)

A Quote from the Principal:

"At CCTE we believe that academic strength is a valuable commodity in all career paths, and our academic teachers are among the best in the county."
Center for Career & Technical Education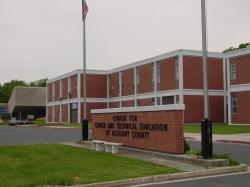 Building Trades Student House Project
Currently underway is the Career Center's Building Trades student house project, which is the 16th to date. Students in the skill areas of carpentry, under the direction of Gary Taylor; HVAC, under the direction of Robert Shewbridge; and electrical, under the direction of Michael Riggleman, work collaboratively to construct a house that will ultimately be for sale in the local community. This year's house, which is roughly 1,700 square feet, is located just off of Winchester Road and will feature three bedrooms and two full bathrooms, cathedral ceilings, ceremic tile in the kitchen, an open floor plan, and room for expansion in the basement. The foundation for this home was set on December 11, 2018, and the project will take approximately two years to complete.