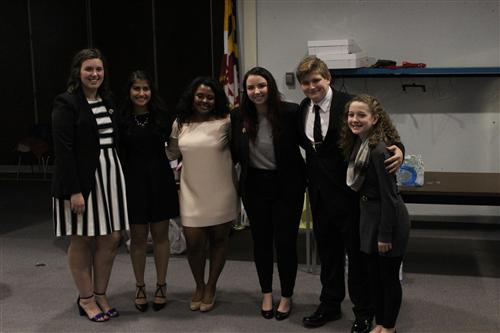 The Allegany County Association of Student Councils (ACASC) Executive Board will meet every third Tuesday at the Board of Education's central office, 108 Washington Street, from 6:30-7:30 p.m. ACASC is open to any student in grades 6-12 who is involved with student council within their respective schools. The Executive Board consists of the County's student council president, the Student Member of the Board (SMOB), secretary, public relations officer, parliamentarian, middle school representative (2nd vice-president), and MASC staff representatives. This board discusses issues in the schools, files and votes on legislation, provides leadership training, creates a countywide network of student leaders, and receives updates from the SMOB.
Members of the 2017-2018 Executive Board are listed below:
President/Alternate Student Member of the Board - Delanie Blubaugh, Allegany High School
Vice-President/Student Member of the Board - Alexis Lashbaugh, Allegany High School
Secretary/Treasurer - Umailla Fatima, Allegany High School
Parliamentarian - Peyton Porter, Mountain Ridge High School
Public Relations Officer-Jocelyn Weston, Allegany High School
2nd Vice-President (middle school representative) - Haley Llewellyn, Westmar Middle School
The mission of ACASC is to foster a countywide environment for all secondary school students to express and exchange opinions and ideas, develop leadership skills, and promote student representation and involvement in all groups and organizations impacting the lives of students.