Allegany County Public Schools
Great Teaching. Great Learning. Every Student. Every Day.
Mountain Ridge: At A Glance
Administration:

Mr. Danny Carter, Principal
Mrs. Katherine Loughrie, Assistant Principal
Mr. James Evans, Assistant Princiapl

Enrollment:
Mountain Ridge High School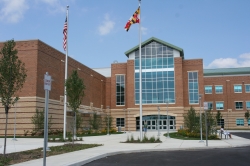 Honors English 11
New this year in ACPS is an Honors English 11 course. Previously, the school system had offered a regular English 11 course as well as AP English classes. Mountain Ridge High School has one section of this new course taught by Ms. Mollie Kavanaugh with 18 students enrolled. "This class is meant to be a brigde between 11th grade and either early college English or AP English," said Ms. Kavanaugh. This course essentially took the regular English 11 curriculum and bumped it up a bit with more writing similar to what students will be asked to do at the 12th grade level. Currently, at Mountain Ridge, there are 91 students taking a total of 182 early college courses, which is up from years past. Additionally, ACPS will offer a new early college course in the spring - Early College Intro to Literature.
Coming Soon - HRM Documentary
This year, Mountain Ridge High School's Historical Research Methods class, taught by Dr. Matthew Ravenscrof, will feature Westvaco as their oral history documentary. This student-selected project will feature the Westvaco's history, the impacat it had on the people in that area, and the closure of the mill along the impact that has had on peripheral industries. For the first time, the project will not only focus on the topic's history, but also the its present day impact. The class is in the early stages of gathering information for the documentary, which will be featured in early May. Stay tuned!
Mountain Ridge Hosts Elementary Students for Frozen, Jr.
Mountain Ridge High School hosted elementary students from around the district for three showings of the Mountain Ridge PAPA's production of Disney's Frozen, Jr. The play was directed by Jordan Kline, with Michaela Hale as the musical director and Allison Clise as the choreographer. While parts in the play were open to all area youth, many of the leading roles featured students from Mountain Ridge itself. According to Kline, "I am blessed to work with such incredible professionals, and I know that our students truly work with the best." He went on to say, "I would also like to thank all of our parent volunteers, and of course the cast and crew students for making this summer fun and rewarding." The elementary aged students throughly enjoyed the show, clapping, cheering, and singing along throughout the production. The youngsters seemed to especially enjoy the brief intermission during which time cast member and Mountain Ridge sophomore, Guy Witt, who played Oaken and Pabbie, led the audience in some stretching exercises, eliciting laughter from the entire packed house! Finally, while one might think that the finale of any play is the highlight, but the act immediately following intermission stole the show. During this scene, Ice Queen Elsa, played by Abby McLaughlin, senior at Mountain Ridge, sung the movie's signature song, "Let It Go", while snow fell on the audience as they watched her transform into the Ice Queen. Bravo to everyone involved in this fantastic production!