Northeast: At A Glance
Administration:

Enrollment: (updated 7/2022)

Quote from the Principal:

"Our faculty and staff will positively create a learning environment that fosters student growth in every way. We recognize that in order to do this, we must develop and maintain a strong relationship with parents and community members."
Northeast Elementary School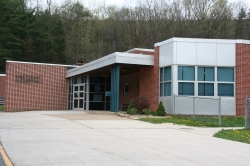 Northeast Celebrates Grandparents Day
On Wednesday, September 11, 2019, Northeast Elementary School hosted its annual Grandparents Day celebration for students and families in grades kindergarten through second. Each grade had a 30-minute session with their grandparents where they had the opportunity to hear several short stories, complete crafts, play games, and just enjoy spending time with each other.