Fort Hill: At A Glance
Administration:

Enrollment: (updated 10/2022)
Fort Hill High School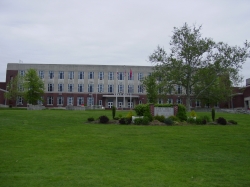 New at Fort Hill
New this year is the junior/senior elective, WWII and Holocaust studies, taught by Mr. Robby May. There are currently 25 students enrolled in this course. Mr. May has been at Fort Hill since 2016 and also teaches AP U.S. Government & Politics, LSF Government, AP Modern World History, AP U.S. History, and Historical Research Methods I/II.

Mr. Josh Cook is new to Fort Hill this year and is currently teaching Foundations of Technology and Construction I, Construction II. Students in his Construction I and II course are currently working on small group presentations about the history of construction, detailing how construction and all things associated with it have evolved over time.
Show Choir
Fort Hill High School's 14-member show choir, under the direction of Mr. Bob Thompson, consists of students in grades 10-12. The group is currently rehearsing for their Gospel Show in which they travel to approximately 2-3 local churches a month to perform a 20-minute show for the congregation. At the conclusion of the performace, the group passes a collection hat, and all funds are used to support the program, including uniforms and travel to competitions. The group's Gospel Show opens October 20th.

FH Show Choir Rehearsal from ACETV ACPS on Vimeo.