2017-2018 Student Salute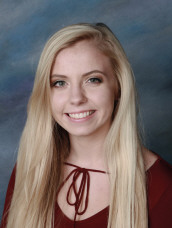 Phone:
Email:
Degrees and Certifications:
Amy Alderton

Fort Hill High School
GPA 4.41

Amy is currently enrolled in AP literature and AP calculus, Honors Spanish V, and college level algebra and biology. She is the captain of the volleyball team and a member of the unified bocceball team, the tennis team, the National Honor Society, and the ecology club. Amy volunteers her time at the Cumberland Zoo, teaches children at her church and at Vacation Bible School, participates in the youth choir, and is a member of her church youth group. She has received multiple Spanish awards, is an AP Scholar, and a Fort Hill Shining Star. Amy plans to attend Frostburg State University to study health sciences and hopes to pursue a career as an RN or a nurse practitioner.