2017-2018 Student Salute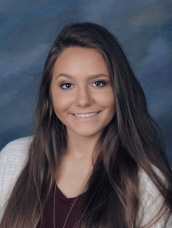 Phone:
Email:
Degrees and Certifications:
Hailey Miller

Mountain Ridge High School
GPA 4.26

Hailey is currently enrolled in several honors and college classes, including Honors journalism, art III, and historical research methods, as well as college algebra, English, speech, and statistics. She is the captain of the cheerleading squad, and a member of the National Honor Society and the yearbook staff. Hailey attended the Columbia Scholastic Press Association Convention in 2017, worked as a lifeguard at Dan's Mountain State Park, and provides after school childcare for elementary students. She also volunteers her time with the Junior Women's Civic Club and Toys for Happiness. Hailey plans to attend a four-year college or university, and her future plans are undecided.