2017-2018 Student Salute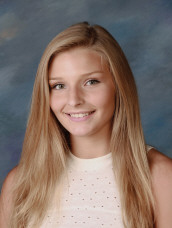 Phone:
Email:
Degrees and Certifications:
Kelsie Burkett

Allegany High School
GPA 3.9

Kelsie is currently enrolled in AP biology and AP calculus, Honors Spanish IV, and college level English and psychology. She is the vice president of the 4-H Club and a member of the track team. Kelsie also works part-time at Dairy Queen, and she placed first in the extemporaneous speech category at a 4-H speaking contest. She plans to apply to UMBC, Towson University, the University of Maryland, and Frostburg State University. Her future plans are currently undecided.