2017-2018 Student Salute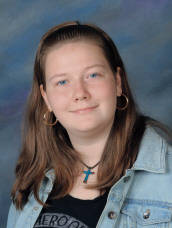 Phone:
Email:
Degrees and Certifications:
Julia Moore

Allegany High School
GPA 4.47

Julia is currently enrolled in a number of AP courses including AP human geography, calculus, English literature, chemistry, physics II and statistics. She is a member of the Drama Club, the Teachers of Tomorrow, the choir, and the National Honor Society. Julia also participates in the Bel Canto choir and her church choir, Girl Scouts, and her church youth group and worship team. She has held a number of leadership positions within the Girl Scouts including a junior counselor, program aide, and voting representative. Julia volunteers her time with the Kids Church Ministries, vacation bible school, and as a blood donor with the American Red Cross. She has received a number of awards that include the Girl Scouts Silver Award, Community Award, Bronze Award, and Service Award; the Fine Arts District Superior Award; and the Fine Arts National Excellent Award. Julia plans to attend Frostburg State University and hopes to pursue a career as a math teacher.