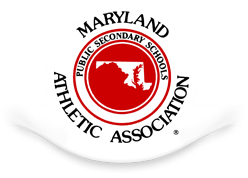 ATTENTION ALL COACHES...

You must complete the

Concussion in Sports

training and renew it every 2 years. This is FREE!

Visit: https://nfhslearn.com/courses/61064/concussion-in-sports to take the training.

Turn your completion certificate in to your Athletic Director.

How to become a Credentialed Interscholastic Coach!

All Coaches that do not hold a teaching certificate must become Credentialed Coaches. To accomplish this, all coaches that do not hold a teaching certificate must:

complete the One-Credit Course in the Prevention and Care of Athletic Injuries. This course includes but is not limited to: Bloodborne Pathogens, CPR/AED, First Aid, and Sport-Specific Rules. Coaches must also be re-certified yearly in CPR/AED training. Your Athletic Director will coordinate trainings each year with our BLS Instructor.
possess an MPSSAA/MSDE Coach Certification, which means completion of the NFHS Level 1 Coaching Certification or MSDE Approved In-Service Coaching Education Program prior to the start of his or her fourth year as a coach. This certification consists of two (2) online courses: "Fundamentals of Coaching" and a "Sports Specific" course. Please check with your Athletic Director for which course you should choose.

Directions for taking the NFHS Online Courses:

Go to http://nfhslearn.com/
Register or Sign-In
Click "Courses" on the top toolbar and from the drop down list; choose "Fundamentals of Coaching" or "Sport-Specific Courses" and then choose your sport. If your sport is not listed, you can just pick one that is available.
Click on "Purchase Now"
Choose the option "I am purchasing a course for myself" and "Continue"
Choose "Maryland" from the drop down list and click "Save"
The cost for the Fundamentals of Coaching course will be $35 and $50 for the Sports Specific course. Continue "Checkout" and enter your credit card information. There will be a link on your receipt that you click to take the courses.
Congratulations!After successful completion of each course, you will be able to print out a Certificate of Completion. Please remember to submit a copy of your certificate to the Athletics Department to be kept on file.

Accredited Interscholastic Coach

The coach must complete the following courses:

NFHS Fundamentals of Coaching
Fundamentals of Coaching ( Sport-specific) or Teaching Sport Skills
Care & Prevention of Athletic Injuries (Offered by ACPS - Taught @ FSU)
Concussion in Sports

Required Core Courses:

Sport-Specific Courses:

Elective Courses:

**fulfills the requirement for "General Certification".

If your sport's course is not yet available you can still Get Certified!