School libraries play a powerful role in enabling, informing, and sustaining student agency, and nothing engages and motivates students more deeply than allowing them to become the active agents in the process of learning. Research has demonstrated overwhelmingly those students who have agency in their learning are more motivated, experience greater satisfaction in their learning, and, consequently, are more likely to achieve academic success.



As students are instructed by library media specialists using the Gradual Release of Responsibility framework, along with the Universal Design for Learning strategies; these educators form valuable relationships with students, meeting with them consistently over a seven year period at the elementary level, committed to impacting students' learning for successful educational experiences.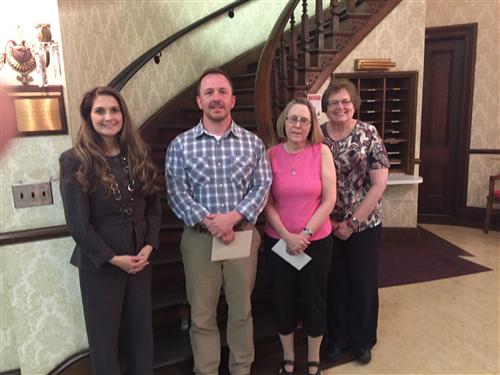 The school board honored Deborah Hendrickson, school library media specialist at Westernport Elementary School for her 41 years as a school library media specialist for ACPS. She has mentored, modeled, presented, created, and mastered library management and skills. She has been the contact working with the BOE in assisting to design past and present circulation systems and has provided professional development to the schools. T

The school board also honored Steve Milburn, Instructional Technology Web Developer, for his dedication, commitment, and expertise in creating the new ACPS circulation system called Junto. Based on the requests of library media specialists, Steve designed a system that is effective, efficient, and meets the needs of staff and students. His intelligence and creativity is a talent, and ACPS is very fortunate to have him.