Return to Headlines
Three ACPS Students Earn Scholarships to Frostburg State University
Annual Student Salute Program Affords Graduates Money towards College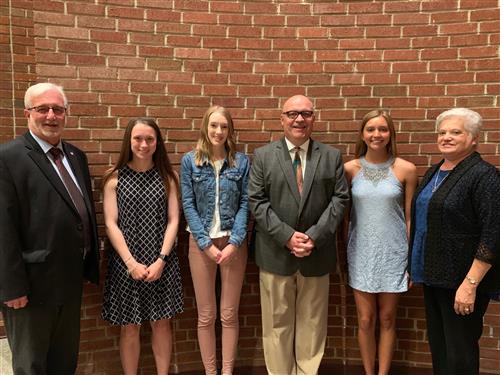 Three Allegany County Public School students were recently selected as 2019 recipients of the annual Student Salute Program scholarships. Haley Viola of Fort Hill High School will receive a $5,000 one-year scholarship, to be used for tuition, to Frostburg State University for the 2019-2020 academic year. Meghan Murphy, Mountain Ridge, and Emily Book, Allegany, are the recipients of $500 scholarships to FSU for the upcoming year.
The Allegany County Student Salute Program is a collaborative effort to recognize high school seniors who excel in the classroom. Through the program, those students identified as exceptional academic achievers, based on GPA, school and community leaders, and who intend to enroll at Frostburg State University, earn the opportunity to qualify for scholarships.
Haley was enrolled in several AP courses at Fort Hill and was the student body treasurer, the National Honor Society historian, an the vice president of the National Art Honor Society. She was also a member of the unified tennis team. Haley is a team member at Chick-Fil-A, a member of the Northern West Virginia Quarter Horse Association's youth team, and the president of the Cumberland Valley 4H Club. She volunteers her time at local blood drives, has qualified for the AQHYA world show and team tournament and Pennsylvania state 4-H show, and was an AP Scholar. Haley plans to major in biology or chemistry at FSU and hopes to pursue a career as an ophthalmologist.
Meghan was also enrolled in Honors and college-level courses at Mountain Ridge and was the captain of the tennis team and a member of the Ridge Scholar Club and the National Honor Society. She is a Minds in Motion athlete, was a Rotary Club Student of the Month, and consistently made the Straight "A" Honor Roll. Meghan served as the scorekeeper for middle school basketball games and volunteers her time with the Summer Lunchbox Program, and at vacation bible school. She plans to major in computer science or health science at FSU and hopes to pursue a career in one of those fields.
Emily was enrolled in AP and Honors courses at Allegany and was a member of the National Honor Society and the Just Hoofin' It 4-H Club. She volunteers her time at Lion's Manor Nursing Home, with the 4-H Club, and with service projects including the Fresh Air Fund and Salem Children's Trust. Emily also assists with vacation bible school and with her church's Youth Group and Praise Team and has attended several mission trips. She plans to earn her degree in nursing at FSU and hopes to pursue a career as a nurse practitioner.
The Allegany County Board of Education distributes and collects applications for the Student Salute scholarships, which are converted into "on-air" salutes that run weekly on WCBC radio station. The Allegany County Chamber of Commerce's Education Committee reviews all applications and selects the FSU scholarship recipients. All three students were recognized at the June 11, 2019, Open Session of the Board of Education.
Pictured: James "Snake" Robertson, Chamber of Commerce; Meghan Murphy, Emily Book, Wray Blair, Frostburg State University; Haley Viola, and Mary Clites, WCBC Radio
Published 6/12/19