Return to Headlines
ACPS Students Participate in Earth Day Activities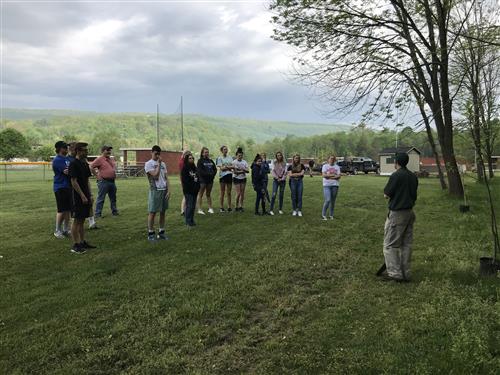 Each year, Allegany County Public Schools participate in an Earth Day activities around the county allowing students to take part in impactful community service projects. On Friday, May 3, 2019, 20 students from Allegany and Fort Hill High Schools planted more than 40 trees at the Allegany County Fairgrounds to replace shade canopy. The Emerald Ash Borer destroyed many of the ash trees that previously provided shade at the site near the ballfields. These six-foot tall trees will not only help to create better aesthetics, but will help improve water quality, reduce sediment erosion, and regulate water temperature in the nearby streams.
The six different species of shade trees that the students planted were funded through the TREE-MENDOUS MARYLAND program. This program of the Maryland DNR Forest Service, remains one of the most popular programs, and it is aimed at helping citizens restore tree cover on public land and in other community open spaces in Maryland. To date, Tree-Mendous has assisted more than 3,000 towns and communities, parks, and schools by providing funding to plant trees and shrubs in an effort to help clean the water, clean the air, and keep towns and cities inviting, livable, and environmentally viable places to live.
For more information, visit the Department of Natural Resources' website at the following links:
Pictured above: Adam Miller, a Forester with the Maryland DNR Forest Service, demonstrates the proper technique for planting trees to ACPS students. Also pictured is John Howard, Environmental Science teacher at Fort Hill High School. Not shown is Julie Conway, Forest Ranger with the Maryland DNR Forest Service in Allegany County.
Published 5/11/19