Return to Headlines
West Side Chinese Immersion Program Students Win at Language Competition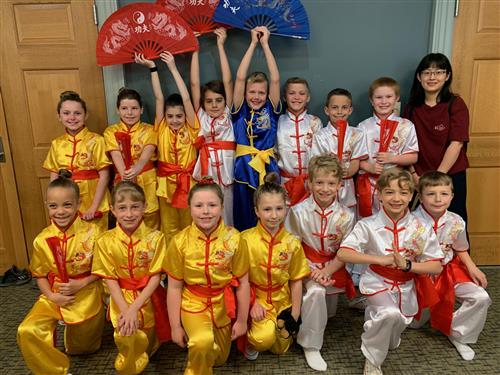 Third Grade Group Places 1st Overall out of 15 Teams at Annual Event at UMD
On Thursday, May 2, 2019, students in grades one, three, and five at West Side Elementary School enrolled in the Chinese Partial Immersion Program had the opportunity to represent Allegany County at the 9th Annual Chinese Bridge Language Competition - Elementary School Level - at the University of Maryland, College Park. Competing against a total of fifteen teams, West Side's first grade team tied for 3rd place; the fifth grade team tied for 2nd place; and the 3rd grade team won 1st place overall. In addition, Braddock Middle School's 6th grade team placed 2nd at the secondary level of the event held later that afternoon.
During the elementary competition, teams were scored on both a speech portion worth 70% and a cultural performance piece worth 30%. This year's theme was "Why I Love Learning Chinese." Competing against West Side's teams at the elementary level were as follows: Baltimore International Academy (Baltimore), Children's Global Readiness Academy (Bowie), Tong Le Montessori School (Baltimore), Georgetown Day School (D.C.), Washington Yu-Ying Public Charter School (D.C.), New York Chinese School (New York City), and Shuang Wen Academy Network Chinese-American International School (New York City).
West Side's first grade team, under the direction of Ms. Xuefei Zhou and Ms. Jenny Xu, performed Huangmei Opera and Dance, and Max D'Atri gave their speech titled "Chinese Opera and I". The third grade team, taught by Ms. Jiabang Wu and Ms. Yin Cheng, performed "Shaolin Heroes", and Iris Kujenga recited their speech entitled "The Charm of Chinese Characters." Fifth graders, under the direction of Mr. Liang Chang and Ms. Yin Cheng, performed "Dance and Chinese Calligraphy: Rarely Used Characters", and Katelyn Wilkinson gave their team speech entitled "My Story of Chinese Characters."
Members of West Side's winning 3rd grade team are as follows: Liam Buck, Lily Cross, Abigail Ditto, Christian Fraley, Silas Hocherl, Lincoln Isom, McKaylee McGowan, Violet Nelson, Samuel Panetta, Derek Read, Anna Rhodes, Anthony Shorto, Alex Strozykowski, Olivia Thompson, Lia Twigg, and Iris Kujenga.
Pictured: (front) Iris Kujenga, Violet Nelson, Lily Cross, Lia Twigg, Samuel Panetta, Silas Hocherl, Derek Read; (back) McKaylee McGowan, Anna Rhodes, Abigail Ditto, Anthony Shorto, Liam Buck, Lincoln Isom, Christian Fraley, Alex Strozykowski, Ms. Jiabang Wu; (not pictured) Olivia Thompson.
Published 5/3/19