Return to Headlines
Allegany County Public Schools Hold 30th Annual Envirothon Competition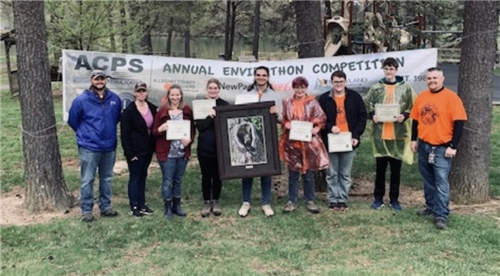 High School Teams Competed; Mountain Ridge's "Re-Inventing the Eel" Takes 1st Place
Allegany County Public Schools hosted the 30th Annual Envirothon Competition on Thursday, April 25, 2019, at Rocky Gap State Park. Ten teams from Allegany, Fort Hill and Mountain Ridge High Schools and the Center for Career and Technical Education participated in this year's event. Allegany County's competition tests teams abilities in the areas of Aquatic Ecology, Forestry, Wildlife, Soil and Land Use, and Agricultural Soil and Water Conservation Stewardship.
Mountain Ridge High School's team, "Re-Inventing the Eel", placed first in the event and will now have the opportunity to represent Allegany County at the 2019 Maryland Envirothon June 19-20, 2019, at Saint Mary's College. Members of team "Re-Inventing the Eel" included Eleanor Browne, Nicholas Twigg, Kendra Harpold, Dresden Kershaw, and Alexander McNemar. Becky Byzon is Mountain Ridge's Envirothon advisor.
Another team from Mountain Ridge, "The Scud Life", placed 2nd in the competition, and Allegany's "The Naturalists" and the "Dream Team" placed third and fourth, respectively. Members of team "The Scud Life" included Evard Demott, Jack Weston, Jesse Lesclaette, Chase Fearon, and Ellawyn Odom. Members of team "The Naturalists" included Hannah Moore, Samantha Kelly, Javier LaRue, and Jonathon Larue. Members of the "Dream Team" included Emily Ellsworth, Hannah Willetts, Lydia Martz, Lydia Deneen, and Omaer Naeem. Mac Sloan is Allegany's Envirothon advisor.
"Re-Inventing the Eel", Mountain Ridge's winning team, took first place in Aquatics, Wildlife, and Agriculture and the Environment. "The Scud Life", also from Mountain Ridge, won the Soils category, and "The Naturalists" from Allegany won the Forestry category.
The Envirothon is a problem-solving natural resource competition for high school students. Three Pennsylvania soil and water conservation districts first implemented it in 1979, and the first national contest was held in 1988. The objectives of the event are to allow participants to gain a deeper knowledge of the effect individual actions have on environmental problems; the interactions and interdependencies of the environment; current environmental issues; the agencies available to assist them in resource-protection matters; and the need to become environmentally aware and action-oriented adults.
Thanks go out to all the individual and groups that help to make the Envirothon a success each year. Special thanks to the District Commissioner of the Allegany County Soils Department for donating the wildlife pictures given to the winning teams and each association that offered gifts for the winners of each topic.
Pictured is team "Re-Inventing the Eel": Adam Heavner, District Manager of ASCD; Amanda Paul, District Board Supervisor for the ASCD; Becky Byzon, Kendra Harpold, Dresden Kershaw, Eleanor Browne, Alex McNemar, Nicholas Twing; Eric VanSlyke, ACPS Secondary Science Supervisor
Published 4/30/19