Return to Headlines
ACPS, ACM, FSU, CCA Participate in Annual Leadership Allegany! Education Day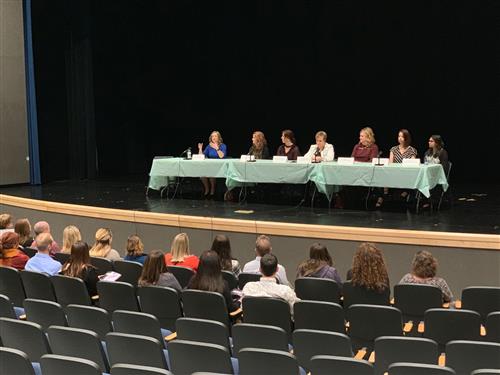 This Year's Theme "Working Together Today for a Strong Tomorrow"
On Wednesday, March 27, 2019, the Allegany County Chamber of Commerce Leadership Allegany! Class of 2019 participated in the program's annual Education Day co-hosted by the Allegany County Public Schools, Allegany College of Maryland, and Frostburg State University. The day's theme was "Ensuring Student Success in a Changing World."
The class began their day at Frostburg State University, where they had the opportunity to learn about FSU's College of Education and College of Liberal Arts and Sciences. Class members were welcomed by FSU President, Dr. Ronald Nowaczyk, and then heard from Dr. Jackie Durst, Assistant Professor of Kinesiology, and Karla Schoenly, Head Athletic Trainer, who discussed preparing students for a professional certification. Dr. Benjamin Norris, Associate Professor of Chemistry, Dr. Eric Moore, Associate Professor of Physics and Engineering, and Dr. Duane Miller, Academic Lab Manager, discussed connecting STEM students with new technologies.
Leadership Allegany's! Education Day continued with a visit to Allegany High School. While there, the class heard from a panel of ACPS administrators, students, and school board members about how Allegany County Public Schools ensures that students succeed in a changing world. These panel members explained that ACPS is determined to create learning environments that support the ways students need to learn. Panel members included: Tammy Fraley, school board member; Dr. Kim Kalbaugh, Chief Academic Officer; Dr. Molly Stewart, Principal at Braddock Middle School; Mrs. Candy Canan, Principal at the Career Center and Supervisor of CTE Programs; Mrs. Heather Morgan, Principal at John Humbird Elementary School; Ms. Melissa Kaye, STEM and P-TECH Coordinator; and Ms. Eesah Bokil, Student Member of the Board. Before departing Allegany, the class had the opportunity to tour the new school.
Next, Leadership Allegany's! Education Day continued with a visit to Calvary Christian Academy where the class gained a private school perspective on ensuring student success in a changing world. They were greeted by Mr. Daniel Thompson, CCA Administrator; Mrs. Rhonda Poland, Development Director; Mr. John Wall, Athletic Director and Volleyball Coach; Mrs. Myra Jones, 6th Grade Teacher, Alumnus, and Student Council Advisor; and Mrs. Penny Vaughan, Pre-K Director and Parent. While at CCA, the group heard from another panel, this one consisting of high school student who have attended the school since pre-kindergarten. Panelists included: Brooke Riley, senior; Cassandra Cessna, sophomore; Ethan Livengood, 8th grade; Bella Jolley, 6th grade; Eli Ziler, 4th grade; and Alexis McDowell, 3rd grade. The class also had the opportunity to tour CCA.
The group concluded their Education Day at Allegany College of Maryland, where they heard welcoming remarks from ACM President, Dr. Cynthia Bambara. Dr. Bill Rocks, Dean of Career Education, worked with the class on a leadership development activity, followed by discussion on ensuring student success in a changing world through business partnerships to provide workforce development. The class heard comments from the following individuals: Mr. Jeff Kirk, Dean of Continuing Education and Workforce Development; Mrs. Autumn Becker, Director of Western Maryland IT Center of Excellence; Mrs. Charlotte Clark, HR Partner with IBM Rocket Center; Ms. Melanie Chapman, Director of Adult Basic Education; Mr. Paul Smith, Allegany County Office Supervisor, Western Maryland Consortium, Allegany County American Job Center; Ms. Christa Snyder, Continuing Education Health and Human Services Coordinator; Ms. Joy Taylor, Program Coordinator, AHEC West and Project Specialist, National AHEC HPV Immunization; Mrs. Becky Ruppert, Director of Career and Employer Solutions; Mr. Chad Bollman, Principal HR Generalist, Northrop Grumman Innovation Systems; and Mr. Scott Pfeiffer, Director of Operations, Northrop Grumman Innovation Systems.
Following this discussion, the Leadership Allegany group were treated to a tour and hands-on experiences of the nursing simulation lab and nurse-managed wellness clinic, led by Cheryl Nelson, Director of the Nurse Managed Wellness Clinic and Associate Professor of Nursing.
Members of the Leadership Allegany! Education Day 2019 Organizing Committee were David Jones, Vice President of Advancement and Community Relations at ACM; Mia Cross, Public Information Officer for ACPS; and Dr. Jeff Graham, Assistant Vice President for Student Affairs at FSU.
Published 3/27/19