Return to Headlines
Leadership Allegany Rising! Holds 2019 Graduation Ceremony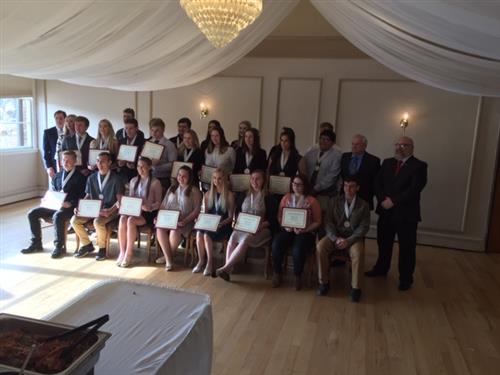 The Allegany County Chamber of Commerce's Leadership Allegany! Rising, modeled after the successful Leadership Allegany! program, held a graduation ceremony today for the Class of 2019, at the Cumberland Country Club.
The 7-month long program is dedicated to providing positive change by creating a network of future leaders committed to impacting their community. In a forum of open discussion and interaction, class members gained the knowledge and motivation to effect positive change within the region. Educational Topic Days designed for class participation and dialogue covered topics including Healthcare/ Social Services, Government, Economic Development/ Business/ Career, and Higher Education. All program activities occur within the scheduled school day.
The graduation ceremony opened with welcoming remarks from the Leadership Allegany Rising chair, Autumn Becker. Also offering remarks were Scott Pfeiffer, Chairman, Board of Directors for the Chamber, and Dr. David Cox, Superintendent of Schools. Dr. George Brown, Vice Chair of the program, also assisted in graduation presentations. The Executive Director of the Chamber, Stu Czapski, gave closing remarks.
Members of the Class of 2019 were as follows: Ethan Adams, CCA; Matthew Arnone, CCTE; Haley Arthur, CCA; Cara Bako, BW; Madison Cesnick, MR; Logan Corwell, CCA; Alexander Currence, FO; Caleb Dante, CCTE; Tyler Dixon, BW; Jenna Green, MR; Ryan Hagelin, CCA; Seth Higson, BW; Emma Lauder, MR; Megan Lick, CCTE; Quinn Madden, AL; Jordan Marini, BW; Donna Morgan, CCTE; Eleanor Ness, AL; Paris Phillips, AL; Lindsay Sites, FO; Peyton Smith, MR; Carson Snyder, FO; John Toothaker, AL; Riley Upole, FO.
The 2019 Leadership Allegany Rising Steering Committee were Autumn Becker, Chair; Dr. George Brown, Vice Chair; Dr. Cynthia Bambara, Stu Czapski, Dr. David Cox, Peg McKenzie, Dr. Ron Nowaczyk, and James "Snake" Robertson. Topic Day Chairs were as follows: Stephanie Blank, Brandon Butler, Al Delia, Robby May, Jeffery O'Neal, William Rocks, Jake Shade, Elizabeth Stahlman, and Dr. Elizabeth Throop.
Published 3/14/19