Return to Headlines
Fort Hill Hosts National Social Studies Honor Society Induction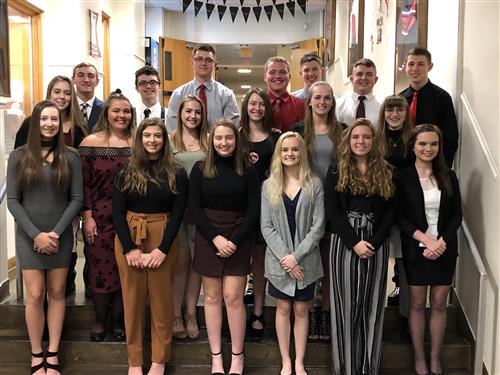 Fort Hill High School recently held the founding and member induction of the first chapter of RHO KAPPA, the National Social Studies Honor Society, in all of western Maryland. In order to be invited to apply for membership, students must meet rigorous requirements and complete an application. Requirements include having an overall weighted GPA as well as a Social Studies GPA of at least 3.8; having completed at least two Social Studies Advanced Placement courses; being currently enrolled or committed to enroll in a Social Studies elective in both junior and senior years; and showing a high degree of interest in the Social Studies.
The following students were inducted into the founding class of RHO KAPPA at Fort Hill: (seniors) Tyler Blankenship, Rachel Hare, Xavier Michaels; (juniors) Austin Burt, Riley Dixon, Jadison Fairall, Ethan von Hagel, Gavin Haslam, Reagan Marrale, Hannah McCoy, Kambria Rice, Lydia Shepherd, Lindsay Sites, Daniel Stuby, Riley Upole; (sophomores) Cayla Crosser, Olivia Dawson, Rylan Sensabaugh, and Cierra Wilson.
The Fort Hill High School Chapter of RHO KAPPA National Social Studies Honor Society is named in honor of Fort Hill alumna, Mr. Floyd Wigfield, who is a member of the Class of 1938. He served the people of the United States of America and the world in the U.S. Army from 1941-1945, courageously serving in the European Theater of World War II. Mr. Wigfield was part of one of the first American units to land on Utah Beach on June 6, 1944, D-Day, in Normandy, France, beginning the liberation of Europe from the Nazis. By the second day of battle, half of his unit had been killed. On the 10th day of the operation, Wigfield was wounded by a shell that entered through his helmet, striking his head. After recovering from his injuries, he returned to active service as the American forces made their way to France.
The purpose of this chapter is to encourage interest in, understanding of, and appreciation for the Social Studies, and it is intended to enhance a student's civic education at Fort Hill High School while incentivizing participation in advanced academics. The coursework requirements for membership reflect a commitment to the liberal arts and social sciences, which serve as the foundation of civic education. Members will not only deepen their knowledge of the social sciences via chapter activities at school, but also by participating in the chapter service projects and field trip(s) each year.
Published 2/26/19