Return to Headlines
Mountain Ridge High School Holds National Honor Society Induction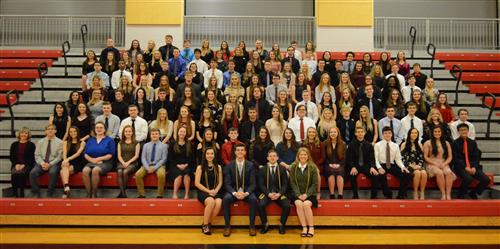 School's Chapter Welcomes 82 New Members
The Mountain Ridge High School Chapter of the National Honor Society recently held its induction ceremony for the 2018-2019 school year welcoming 82 new members to the organization.
The NHS recognizes juniors and seniors who display outstanding accomplishment in the areas of scholarship, service, leadership and character. Students who are inducted are required to have a grade point average of 3.7 or higher. The ceremony was held in the school's auditorium under the direction of adviser Vicki Hoover.
The program opened with a processional played by Hana Chitsaz followed by the National Anthem, sung by Laurel Plitnik. Dr. Sheena Buskirk, D.O., a 2009 graduate of Mountain Ridge, was a guest speaker. Superintendent of Schools, Dr. David Cox; school principal, Danny Carter; and assistant principals, Bo Evans and Katherine Loughrie, gave remarks during the ceremony. Four candles representing each characteristic of the NHS were lit by officers Joshua Metz, president- scholarship; Evan Darr, vice-president - service; Annie Moon, secretary - leadership; and Grace Trenum, treasurer - character.
The following students were inducted into the National Honor Society: William Africa, Katherine Baker, Kaylien Beeman, Lauren Bell, Ethan Bevan, Alyvia Biser, Salee Blank, Cody Boone, Kassidy Bothwell, Kyleigh Bothwell, McKenna Bowman, Savannah Bridges, Tyler Bryant, Trenton Buskirk, Emily Carbaugh, Caleb Carney, Madison Cesnick, Jason Chen, Hana Chitsaz, Allison Clise, Chase Connor, Caleb Dante, Krystal Delawder, Evard DeMott, Maria Diaz, Libby Dozart, Abigail Duncan, Nathan Fazenbaker, Sarah Fazenbaker, Chase Fearon, Jaclyn Fresh, Jesse Fresh, Jenna Green, Anthony Harrison, Dawson Hormuth, Taylor Howell, Jacob Hunt, Kerry Jenkins, Lily Johnson, Dillon Kaschenbach, Michelle Kight, Sean Kline, Dayna Lashley, Emma Lauder, Kailey Leith, Jesse Lescallette, Madison Llewellyn, Lena Maffley, Alyvia Mazer, Miah McKenzie, Blake Miller, Paige Miller, Emily Montgomery, Donna Morgan, Hannah Muir, Olivia Ours, Madison Paris, Kaylee Pifer, Peyton Porter, Mikayla Reed, Hayley Robinette, McKenna Robison, Abigail Rose, Anthony Schena, Julia Seddon, Kristen Smith, Peyton Smith, Samantha Snyder, Oluwafikemi Sowoolu, Devon Spiker, Mackenzie Spradlin, Devon Staggs, Bereketab Tessema, Savannah Turner, Mason Warner, Michael Warnick, Hayley Weddle, Brady Weimer, Jack Weston, Kailee Wilson, Paige Wilt and Isaac Winfield.
The following senior NHS members were also in attendance: Emily Beck, Kylee Bevan, Wesley Blubaugh, Eleanor Browne, Elizabeth Buskirk, Hannah Clark, William Coburn, Tallen Conway, Chantel Craze, Madeline Cullen, Morgan Cuthbertson, Ashley Cutter, Katye DeHaven, Andrew Dittmer, Alexander Eichhorn, Shyanne Foutz, Kendra Harpold, Emily Jones, Hannah Kenny, Dresden Kershaw, Nina Lockard, Jordan Mellott, Timothy Moore, Adalia Morales, Meghan Murphy, Zachary Pheasant, Laurel Plitnik, Kailia Pua'auli, Sarah Rafferty, Trevor Ritchie, Bryson Sivic, Ava Snyder, Emily Wagoner, Trinity Washington, Abigail Wellings, Lacy Winters, and Matthew Worgan.
Published 12/6/18