Return to Headlines
Allegany High School Holds National Honor Society Induction Ceremony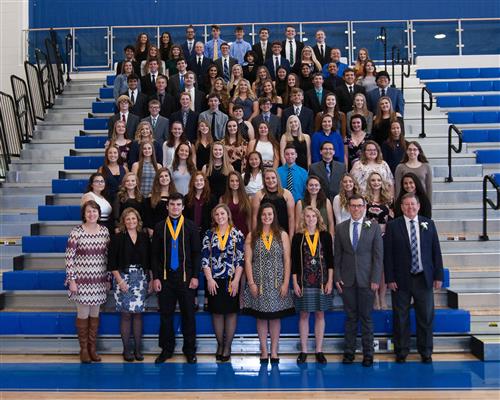 Forty-four Junior and Senior students from Allegany High School were inducted into membership of the National Honor Society (NHS) on Tuesday, October 23, 2018, in an inaugural student event at the new school viewable to over 170 guests, Seniors, and Juniors in the new Theatre as well as observable via live-stream school-wide to Sophomores and Freshmen. They joined 38 current Senior members who were inducted last year. Conducting the school-wide ceremony were Shay Babich, President; Antonia Zais, Vice-President; Claire Marlowe, Secretary/Historian; and Parker Preaskorn, Treasurer.
New members meeting high standards of scholarship, service, leadership, and character were selected by a committee of faculty members following an extensive paperwork and verification process. Seniors inducted were: Coleton Furlow, Jacob Miller, Kaylee Nave, and Max Summerfield.
Juniors inducted were: Keyaria Arbogast, Nathan Ashby, Alex Bennett, Austin DeBlock, Lydia Deneen, Tyler Dicken, Emily Ellsworth, Skylar Ellsworth, Lyndsey Evix, Allison Growden, Madison Haynal, Jackson Hendershot, Chloe Hinkle, Trinity Imes, Gregory Jackson, Hailey Jenkins, Kendal Johnson, Samantha Kelly, Kennedy Koelker, Vy Le, Kalyn Lutton, Cora Madden, Lydia Martz, Lillian McKenzie, Roudell Moffett, Vanessa Mongold, Kole Morgan, Tyler Morgan, Omaer Naeem, Allyson Norris, Julia Persons, Noah Peterson, Paris Phillips, Peytyn Resseger, Gabrielle Salas, John Toothaker, Caitlyn Uhl, Brennan White, Hannah Willetts, and Isaac Zais.
Current Senior members, inducted last year, also participated in the ceremony. These students were: Shay Babich, Zachary Beck, Eesha Bokil, Emily Book, Alexa Bradburn, Alexis Broadwater, Benjamin Bryan, Whitney Buckley, Cosimos Cendo, Jackson Cornwell, Molly Dawson, Jayla Evans, Savannah Glenn, Lainey Golliday, Eliza Griffith, Savannah Grimm, Emma Growden, Robert Halle, Javier LaRue, Claire Marlowe, Madison McKay, Corey McKenzie, Sonnie McKenzie, Grace Moon, Barbara Nelson, Amaya Patterson, Parker Preaskorn, Brian Records, Nikhila Reddy, Christopher Reed, Hannah Reynard, Joshua Shirey, John Henning Taube, Keri Twigg, Logen Wolford, Antonia Zais, Britney Zheng, and Allison Zornes.
The keynote speaker for the ceremony, chosen by the NHS members, was Brian White, Allegany High School's teacher of the year. The other speakers for the ceremony were Dr. David Cox, Superintendent of Allegany County Public Schools, and Michael Calhoun, Principal of Allegany High School. The Faculty Council at Allegany High School includes co-advisors Dr. Lori Brown and Dr. Kay Sheehe along with James Bucy, Betsy Geiger, Debra Slider, and Kevin Wallace.
This chapter recently announced an expansion of the traditional tutoring program that has been a hallmark of the organization. Since the new Allegany High School instituted a lunch time "Power Hour," a collaborative area has been designated as a location for scheduled and walk-in educational assistance each day. The members are pleased to support the academic needs of all students and support the "Allegany in 3D" initiative; Campers are Dependable, Dignified, and Determined.
The National Honor Society ranks as one of the oldest and most prestigious national organizations for high school students. Chapters exist in three-fourths of the nation's high schools and, since 1921, millions of students have been selected for membership. The Allegany High School Chapter, now in its 65th year, originated in 1954. Each participating chapter develops bylaws which must be approved by the National Association of Secondary School Principals (NASSP).
Photo Caption: Forty-four Junior and Senior students are new members of the Allegany High School Chapter of the National Honor Society following a school-wide induction on Tuesday, October 23, 2018, joining 38 current Senior members. Advisors are Dr. Lori Brown and Dr. Kay Sheehe. Photo by G & G Studio.
Published 10/26/18