Return to Headlines
School System Partners with Cub Scout Pack 24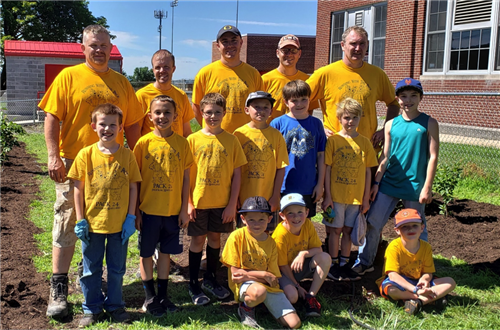 Local Cub Scouts Clean Chestnut Groves at Washington, Fort Hill
On Saturday, July 7, 2018, Cub Scout Pack 24, sponsored by the Frostburg American Legion Farrady Post 24, landscaped chestnut tree groves at both Washington Middle and Fort Hill High Schools. The Cub Scouts pulled weeds, spread landscaping fabric, and spread fresh mulch throughout the chestnut groves. Ten scouts and five adults provided a total of 30 hours of community service.
Pictured: (sitting) Kellan Wagner, Chase DeWitt, Cass DeWitt; (row 1) Taylor Penick, Dane VanSlyke, Karl Vogtman, Coen Wagner, Lincoln Mulcaster, Colin Vogtman, Ackerley Mulcaster.; (row 2) Eric VanSlyke, Tom Vogtman, Dan DeWitt, Kevin Wagner, Dean Mulcaster.
About the Project
Allegany County Public Schools joined The American Chestnut Project in 2015. This partnership already existed with Carroll County Public Schools (CCPS) and The American Chestnut Foundation (TACF). The historical reasoning behind the partnership is clearly stated in an article written by Ferric Jabr and published in the 2014 Scientific American stating that, "Before the early 1900's, one in every four hardwood trees in North America's eastern forests was an American chestnut. Together, chestnuts and oaks predominated in 80 million hectares of forest from Maine to Florida and west to the Ohio Valley." Then in 1876, a man by the name of S. B. Parson imported Japanese chestnut trees to add some exotic species to his New York nursery inventory. In doing that, within 50 years, almost four billion American chestnut trees were killed across the east coast.
Through this partnership, ACPS has begun to develop school-based groves of American Chestnuts where students receive inquiry-based and hands-on experiences. ACPS is proud that in such a short amount of time has created two chestnut groves for scientific study and learning located on the Fort Hill and Washington Middle School campuses. With the support of CCPS, Maryland Department of Natural Resources (MDDNR) Forest Service, TACF, MDSG, University of Maryland Extension (UME), and the Chesapeake Bay Trust, ACPS hopes to report measurable results and significant outcomes for classroom and field activities related to forest management, restoration, and stewardship.
Published 7/11/18