Return to Headlines
School System Hosts 3rd Annual Entrepreneurial Showcase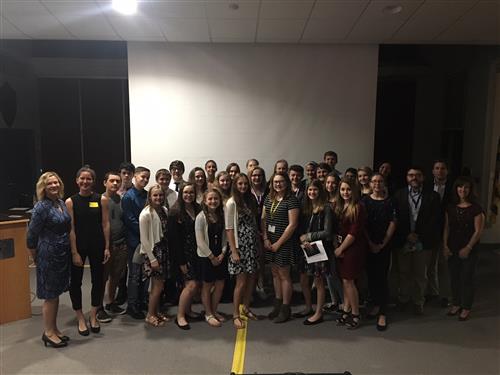 Event Highlights Middle School Student Business Plans
The Allegany County Public School System hosted the 3rd Annual Allegany Partnership for Financial Education and Entrepreneurial Showcase on Friday, May 11, 2018, at the Center for Career and Technical Education where students from Braddock, Mt. Savage, Washington and Westmar presented business plans to local business and community partners.
In cooperation with Allegany HRDC and EverFi, three individuals and seven groups of middle school students who participated in the Allegany Partnership for Financial Education and Entrepreneurship Program met with judges for the event in a round-robin format to discuss their proposals and answer questions relating to entrepreneuriship. Following discussion with judges, the students had the opportunity to give their business pitch to an auditorium full of parents and peers.
Students were judged on their research, marketing, financial plans, and presentation. Isaac Taylor of Mt. Savage was successful in winning the individual category with his plan for a magic mirror, and the group consisting of Morgan Brown, Chloe Delsignore, Alex Jenkins, Alexandra Myers, and Brooklyne Noel from Washington Middle School won in the group category with their plan for Queen City PEAKS recreational complex.
Other student participants included Brennan Kellermeyer, Sage Viera, Isabelle Duncan, Claire Raesly, Mary Delaney, Eliza Duncan, Kendall Kirkwood, Brayden Crawford, Mya Dawson, Laci Liller, Ellie Filer, Emily Kaschenbach, Ayreianna Kilby, Haley Llewellyn, Mackenzie Barreto, Marissa Moore, Claire Stullenbarger, Kyler Baker, and Kamdem Morgan.
Judges for the event were as follows: Stu Czapski, Allegany Chamber of Commerce; Wendolyn McKenzie, HRDC; Jennie Canan, HRDC; Matt Shipway, MSDE Division of Rehabilitation Services; Jake Shade, Allegany County Commissioner; Laurie Marchini, Board of Education; Mia Cross, Allegany County Public Schools; Ty DeMartino, Multimedia Producer/Writer; and Sam Michaels, EverFi. The showcase was hosted by Ashley Hart, EverFi, and Dr. Kim Kalbaugh, ACPS Chief Academic Officer.
Pictured: Isaac Taylor, Chloe Delsignore, Alexandra Myers, Brooklyne Noel, Morgan Brown, Alex Jenkins
Published 5/11/18