Return to Headlines
Induction Ceremony of the Allegany High School Chapter of the National Honor Society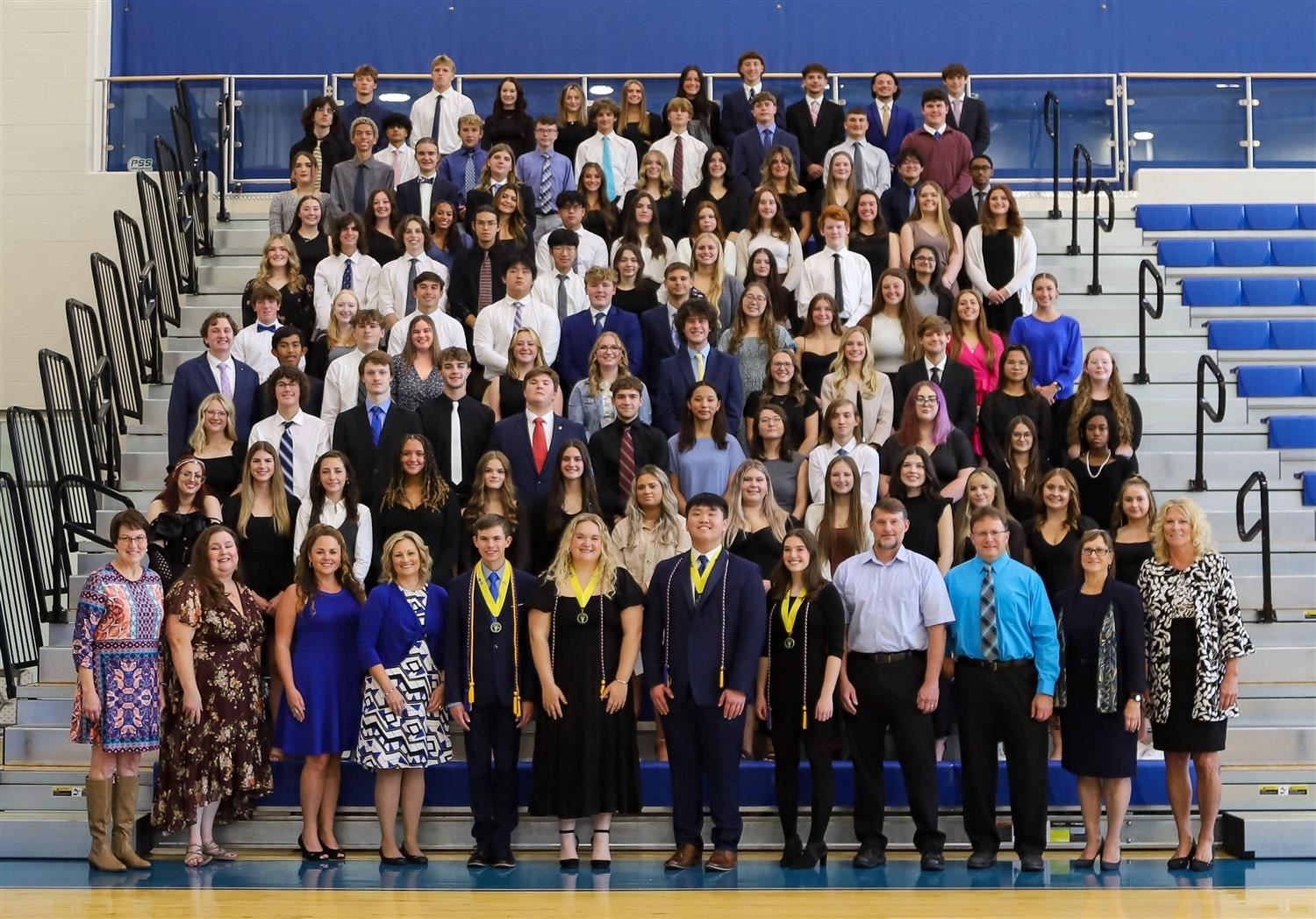 Fifty-nine Junior and Senior students from Allegany High School were inducted into membership of the National Honor Society (NHS) on Thursday, October 19, 2023, in front of parents, staff, students, and guests. Honored guests were Superintendent of Allegany County Public Schools Jeffrey Blank; and members of the elected School Board: Crystal Bender, Robert Farrell, and Lori Lepley. Speakers were Allegany High School Principal Heidi Laupert and Allegany High School's Teacher of the Year Cathy Crockett. Induction was in the Theatre and also observable via live-stream school-wide to the entire study body. The new members joined 45 current Senior members who were inducted last year and have remained members in good standing. Conducting the school-wide ceremony were the four officers who were elected by the student membership: President Colin Sheehe; Vice-President Gracie Doman; Secretary Sam Wu; and Treasurer Kinsey Hostetler.
New members meeting high standards according to the pillars of NHS of scholarship, service, leadership, and character were selected by a committee of faculty members following an extensive paperwork and verification process. Seniors inducted were: Madeline Baker, Taylor Combs, Addyson Gibbs, Brooke Haines, Caden Long, Jason Loveria, Matthew McKay, Joshua Meader, Christopher Nguyen, Grant Nies, Jace Patton, Haris Sadiq, Geronimo Stephens, Savanna Thomas, Jacob Wakefield, and Brody Williams.
Juniors inducted were: Elizabeth Anderson, Landyn Ansel, Lauryn Becker, Anika Bokil, Sean Brady, Nicholas Brown, Lily Burgess, Michael Cannon, Mylee Duckworth, Evin Eisenhour, Olivia Frazier, Finnegan Gallagher, Carley George, Jude Gibson-Thoele, Draven Grieves, Maya Hare, Trinity Hensel, Anna Hilderbrand, Elijah Imes, Alexis Johnston, Emmanuel Kujeng, Nikola Litten, Katie Ly, Emily McGee, Avery Miller, Mackenzie Monahan, Angie Navarro-Gutierres, Andy Preaskorn, Audrey Rader, Jackson Resh, Carter Rice, Peyton Schartiger, Sara Schram, Hannah Snyder, Elizabeth Stevens, Ava Strother, Violet Strozykowski, Nolan Tabb, Melinda Turner, Sophia Valois, Alyson White, Ariyae Williams, and Ryan Wu.
Two-year Senior members inducted last year and who have remained members in good standing are: Carli Atkinson, Emma Beckman, Abigail Britton, Gabriel Browning, Delayni Clark, Mia Dawson, Daniel Diehl, Gracie Doman, Caden Ellsworth, Nathan Ellsworth, Brooke Evans, Riley Gallagher, Andrew Highland, Kylie Hook, Kinsey Hostetler, Sara LaBuda, Mackenzie Lambert, Allison Leatherman, Rebecca Lee, Hong Lin, Daniel Ly, Riley McCutcheon, Ada McFarland, Zachary Michael, Kamryn O'Neal, Nathan Peterson, Skyler Porter, Blake Powell, Riley Pringle, Daniel Reed, Harrison Reid, Peyton Ritchie, Morgan Ruggles, Colin Sheehe, Josef Sneathen, Nevaeh Snoberger, Shylah Taylor, Morgan Trautwein, Kylie Uhl, Macey Wagoner, Avery Wallace, Caedon Wallace, Levi Wiseman, Sam Wu, Alanah Zeunges.
Speakers Laupert and Crockett congratulated students and challenged them to continue to achieve while keeping in mind the four pillars of NHS. Crockett, a member of the Science department, shared her personal journey that led her to teaching and highlighted the importance of striving to make a difference every day. The Faculty Council at Allegany High School includes co-advisors Dr. Lori Brown and Dr. Kay Sheehe along with Erin Cowan, Michael Nestor, Kevin Wallace, and Desiree Witt who collectively represent the departments of English, Social Studies, Mathematics, Science, and Music.
The National Honor Society ranks as one of the oldest and most prestigious national organizations for high school students. Chapters exist in three-fourths of the nation's high schools and, since 1921, millions of students have been selected for membership. The Allegany High School Chapter, now in its 70th year, originated in 1954. Each participating chapter develops bylaws which must be approved by the National Association of Secondary School Principals (NASSP).
Photo Caption: Fifty-nine Junior and Senior students are new members of the Allegany High School Chapter of the National Honor Society following a school-wide induction on Thursday, October 19, 2023, joining 45 current Senior members. Officers (middle L to R) are President Colin Sheehe; Vice-President Gracie Doman; Secretary Sam Wu; and Treasurer Kinsey Hostetler. Photo by G & G Studio.