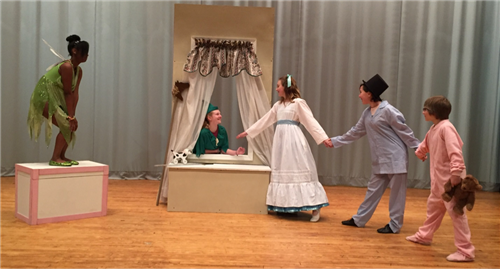 Performances to be held April 28-30
Mt. Savage Middle School will present Disney's "Peter Pan, Jr." April 28 and 29, 2017, at 7 p.m. and April 30, 2017, at 2 p.m. Admission is $5.00 per person, and tickets will be available at the box office.
Based on the Disney film and J.M. Barrie's enchanting play, Disney's Peter Pan Jr. is a modern version of the timeless tale about a boy who wouldn't grow up. With direction by Heidi Gardner and Kimberli Rowley Dinteman and Musical Direction by Chris McCabe, the score includes new arrangements of classic Disney songs and a story featuring one exciting adventure after another.
Wendy Darling loves to tell stories to her brothers, Michael and John. But when her father announces she must move out of the nursery, Peter Pan comes to visit the children, and whisks them away to Never Land. Join Peter, Wendy, John, Michael, and of course, Tinker Bell, who along with the Fairies and Lost Boys, do battle with the sinister Captain Hook and his pirate crew. Along the journey you'll befriend Tiger Lily and her tribe and re-awaken your belief in fairies.
The cast includes Eliza Duncan (Peter Pan), Asylynn Cooper (Tinkerbell), Guy Witt (Mr. Darling and Captain Hook), Grace O'Baker (Mrs. Darling), and Sydney Hotchkiss (Smee). The Darling children are played by Brielle Windle (Wendy), Grace Mowery (John), and George Watson (Michael). Tiger Lily will be portrayed by Ava Breighner. The musical also includes a large and very talented cast of fairies, pirates, lost boys, mermaids, and Indians!
For more information, email
jennifer.windle@acpsmd.org
.
Pictured: Peter Pan (Eliza Duncan) whisks Wendy (Brielle Windle), John (Grace Mowery), and Michael (George Watson) off to Neverland while the lovely Tinkerbell (Ashlynn Cooper) shares a little pixie dust.
Published 4/21/17