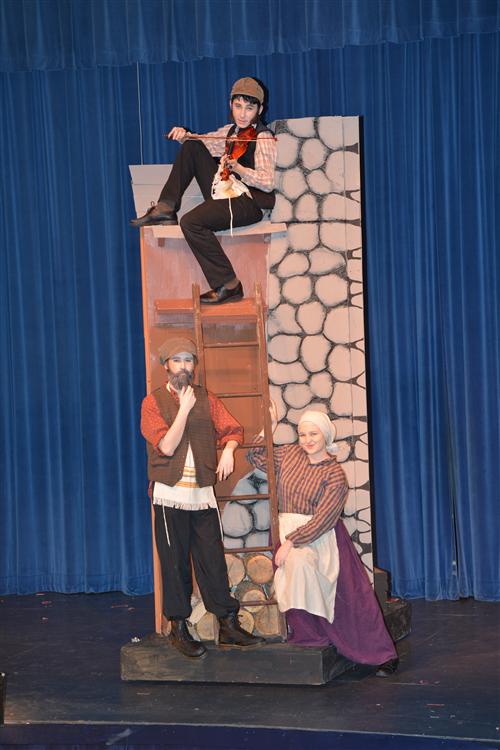 Production Runs April 27th through April 30th
The Allegany High School Drama Club will present Fiddler on the Roof, with music by Jerry Bock, lyrics by Sheldon Harnick and book by Joseph Stein, April 27-29, 2017, at 7 p.m. and April 30, 2017, at 2 p.m. Fiddler on the Roof is based on a series of stories by Sholem Aleichem, entitled Tevye's Daughters.
A story set in the small Jewish village of Anatevka, Russia, in 1905 centers around Tevye, (Tai Bauman) the father of five daughters, and his attempts to maintain his Jewish religious and cultural traditions as outside influences encroach upon the family's lives. He must cope with the strong-willed actions of his three oldest daughters: Tzeitel (Payton Chronister), Hodel (Autumn Holt), and Chava (Sierra Golden) as they explore a life beyond tradition. The cast is made up of students from Allegany High School and Braddock Middle School.
The show is under the direction of Mrs. Jackie Wadsworth with choreography by Shannon Warner of Dixon Dance Studio. Mr. Brian Plitnik directs the orchestra. Rod Horning, Robert Courtney, and Paul Chiarenza are set designers with help from artistic designers Reid and Kathy Smith. Costuming is under the direction of Julie Courtney.
Tickets are $10 for adults and $8 for children. Senior citizens may receive a discount on the Sunday performance for a reduced ticket price of $8. Tickets are available at The Book Center on the Downtown Cumberland Mall, in the Allegany High School lobby, or by calling 301-722-4813. Tickets will also be available at the door each evening. Donations for Jane's place, Inc., a child advocacy center, will also be accepted.
Published 4/18/17