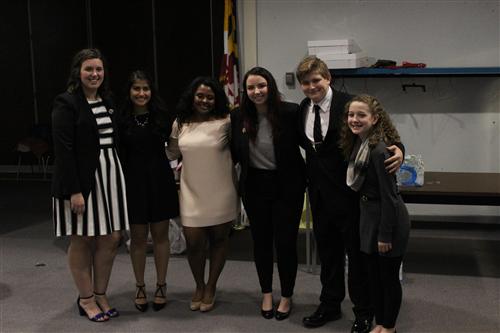 Alexis Lashbaugh, Delanie Blubaugh to Represent School System on County Student Council
The Allegany County Association of Student Councils (ACASC) recently held its annual elections for the non-voting Student Member of the Board of Education (SMOB) and association officers for the 2017-2018 school year. Alexis Lashbaugh of Allegany High School and Delanie Blubaugh, also of Allegany High School, will become the newest SMOB and ACASC president respectively. Lashbaugh will succeed Zachary Sterne on the school board and as vice-president of ACASC. Blubaugh will serve as the alternate SMOB in addition to the ACASC president.
Alexis is a member of the National Honor Society and consistently makes the Principal's Honor Roll. She feels that she is well qualified for this position because of her leadership and time management skills. "I have attended multiple leadership conferences within the school year which have provided me with quality leadership skills." She went on to say, "I am involved with school-related activities, but I do not overwhelm myself. I manage my time well."
As the SMOB, Alexis plans to give detailed reports to members of the ACASC and her peers. "I will meet with other student councils and create SMOB reports to update my peers on the latest news. I will also serve as a role model for those who follow me."
Delanie Blubaugh is involved in a number of organizations at Allegany High School. She feels that she is well prepared to lead the members of ACASC. "I'm very dedicated to student council and take great pride in having the opportunity and ability to voice opinions as a representative in government." She continued, "I'm well qualified as I've been in student council since middle school and have held many positions on school, county, and state levels."
Delanie has several plans during her term as the president of ACASC. "I'd love to work with three local groups such as the Allegany County Animal Shelter, Resources for Independence and the Cumberland Food Bank." She went on to say, "I'd also like to organize public forums and seminars dealing with different issues, specifically student safety."
All candidates were evaluated on poise, attire, communication skills, general knowledge, speech, and leadership potential. Other 2017-2018 officers of ACASC include Jocelyn Weston, Public Relations Officer, Allegany High School; Umailla Fatima, Secretary/Treasurer, Allegany High School; Peyton Porter, Parliamentarian/Sergeant at Arms, Mountain Ridge High School; Haley Llewellyn, 2nd Vice President/Middle School Representative, Westmar Middle School.
Published 3/31/17