Return to Headlines
Phases II and III of Greenway Avenue Stadium Renovation Complete
Upgrades Include New Visitors' Side Bleachers, 8-Lane All-Weather Track
A notable group of individuals gathered together on Wednesday, September 7, 2022, to celebrate the completion of phases II and III of the Greenway Avenue Stadium renovation project, which included the replacement of the visitors' side bleachers and the renovation of the track from a 7-lane to an 8-lane track with a new all-weather surface. The home side bleachers at Greenway Avenue were renovated in 2010 and included the replacement of the bleachers, the construction of a new concourse, the installation of new field lights, and the construction of Allegany's field house.
"When the Greenway Avenue Stadium Capital Improvement Funds Committee shared with me the next option of phases for the stadium, it was clear to complete two phases together," said ACPS Superintendent of Schools, Mr. Jeff Blank. "Both the track and visitor's bleachers needed attention, and this was the most cost-effective way to do that. The elected board fully supported getting this done, and with funding help from the committee, the County, Senator Edwards and the Delegation, we were able to move forward with both phases." Mr. Blank went on to say, "Working together, we were able to accomplish this task, and we are excited to have completed the project for our students, staff, and the community."
"It is great to see the stadium renovations completed," said school board president, Crystal Bender. "We are very fortunate to have such a nice facility available to our students and the community. I am happy that I have been able to be a part of the process and would like to thank all of the staff members and contractors that did such a great job completing this project."
The design of phases II and III began in May 2021, led by Brent Feight of Bushey Feight Morin Architects, the same group who designed the 2010 renovation. Feight assembled a team of consultants, and the design was completed in December 2021. In January 2022, the contract for the construction of the project was awarded to Baltimore Contractors, Inc., and the renovations officially began in February.
ACPS Supervisor of Maintenance and Construction, Jay Marley, noted that while it has been twelve years since phase I of the stadium renovation, the current phases were actually completed in just the past seven months. "The amount of work completed in that short period of time is really impressive when you stop to think about it," said Marley. "BCI did a great job for us, and there really wasn't a day to spare in the schedule. They managed to keep the materials flowing and coordinated their subcontractors to meet and adjust to the schedule requirements." Two of the subcontractors involved in this project were Somerset Steel and Fist Fruits Excavating, both local to the area.
Mr. Feight couldn't have agreed more. "In the short time frame that we had to work with, and the collaboration that we had with the county, the school board, BCI, and ourselves was just fantastic. It was one of the more professional relationships we've dealt with, and I'd love to work with this same crew again."
"This time last year, we only had about 50% of the project designed, and we managed to complete the remainder of the design and the construction within twelve months," said Marley. "Brent and his design team deserve a lot of credit for their technical support and expertise to keep the project on schedule." Mr. Marley also credited his colleagues at the Allegany County Department of Public Works for their assistance. "They provided us with Jim Filer from their engineering group, and he has decades of construction experience. His knowledge and input were invaluable to completing this job at the pace we had to work."
"Jay Marley did an outstanding job overseeing and dealing with the day-to-day issues," said Mr. Blank. "He worked every day on this project, from preliminary plans all the way through the seven months of construction and completing the renovation on time for the 2022-2023 school year."
"Baltimore Contractors is very proud to be part of such an important project," said project superintendent, Adam Rouse. "We knew going in that this was going to be challenging in many ways when we started in late February of 2022. Dealing with the unpredictable weather in Allegany County and the ongoing supply chain issues, we had to hit the ground running." Rouse continued, "Fortunately, mother nature cooperated as we had to pour over 1,000 yards of concrete as part of this project. Using top-notch local contractors and working closely with the County, architects and public school officials was the recipe that got this project completed on time. We could not have done that without everyone's dedication and full cooperation, and we want to thank Jay Marley, Jim Filer and Brent Feight for making that happen!"
Funding for the project came from a number of sources, including the school system, the Allegany County Commissioners, and grants from the state. Additionally, public fundraising activities and direct contributions from the Greenway Avenue Stadium Capital Improvement Funds Committee assisted ACPS with stadium renovations.
"It's been a long time coming, and we're happy that we were able to support this," said Commissioner Shade. "We used some of the American Rescue Funds for this, and that's what it was intended for – one time uses that have a transformational impact." Shade continued, "We have a great relationship with the Board of Education, and we're happy to work together to get this done. It's just a great day for Allegany County." Commissioner Caporale echoed these sentiments. "We were happy to be an active partner in something that I think is going to be enjoyed by many people, for many years."
Mark Manges, chair of the Greenway Avenue Stadium Capital Improvement Funds Committee (GASCIF), couldn't be more pleased with the progress. "I'm very happy that we got this accomplished. Thanks to Senator Edwards for helping the stadium committee secure grants from the State, which were also matched by the County." He went on to say, "We have more work to do, and I promise we are going to get it done, because this is the best high school stadium in Maryland, and we're only going to get better."
Senator Edwards agreed. "There is nothing like this stadium in Washington or Frederick Counties that I'm aware of. Greenway, along with Mountain Ridge Stadium and those at Northern and Southern High Schools are as good as any in the State of Maryland." The senator is also happy that Allegany County will now be able to host regional meets thanks to the addition of an 8-lane track. "Projects like this take a lot of work, and I was happy to be the lead with the Delegation to get some funding for it."
School board member, Tammy Fraley, who also serves as the elected board liaison on the GASCIF since its inception in 2018, enjoys seeing the hard work and community cooperation come to fruition on this project. "There were many hours of hard work put in by the committee members with fundraising efforts as well as working in cooperation with our state and local elected officials to make this dream of a state-of-the-art stadium in Cumberland a reality. Now we will be able to host state track meets, have visitor bleachers that are safe for all ages, and provide a place for all extracurricular programs across the county to take pride in where they perform."
Other school board members shared Mrs. Fraley's sentiments. "I'm really proud of our people and the county and the state for helping us get this done," said Bob Farrell. "I think it's an absolutely beautiful stadium, and we're thankful to have it here in Cumberland." Dr. Bohn was also "happy to have been a part of the school board that worked collaboratively with so many groups to get this renovation done."
"Now that we have resumed activities in the stadium, I do hope our student athletes and their fans benefit from this improved facility," said Marley. ACPS Supervisor of Athletics, Tracey Leonard, agreed. "The renovations of Greenway Avenue Stadium have been exciting to watch and represent the community's commitment to providing both athletes and fans alike with a wonderful experience. I would like to recognize and thank the numerous stakeholders for their collaborative leadership in seeing this project to fruition as well as members of the community who have contributed to its success."
Fort Hill and Allegany High School share Greenway Avenue Stadium, and school administrators realize how fortunate the area is to have such a wonderful facility. "We've been blessed to be able to watch this project take shape over the past seven months," said Fort Hill principal, Candy Canan. "Traveling throughout the state over the past three years to various venues to watch our kids, I have not visited a stadium that compares to Greenway Avenue Stadium, especially now."
"Allegany High School would like to thank the local delegation, our county commissioners, the elected school board, Mr. Blank and Mr. Marley, and the members of the GASCIF for the approval, planning, and completion of the stadium upgrades," said Chuck Moran, assistant principal at Allegany. "Our students are eager to play at the newly renovated stadium and are looking forward to winning many games and competitions there."
"The administration and staff of the high schools did an exceptional job collaborating during the seven months of construction," said the Superintendent. "This allowed our students to work through the interruption of not having access to Greenway Avenue Stadium."
Published 9/12/22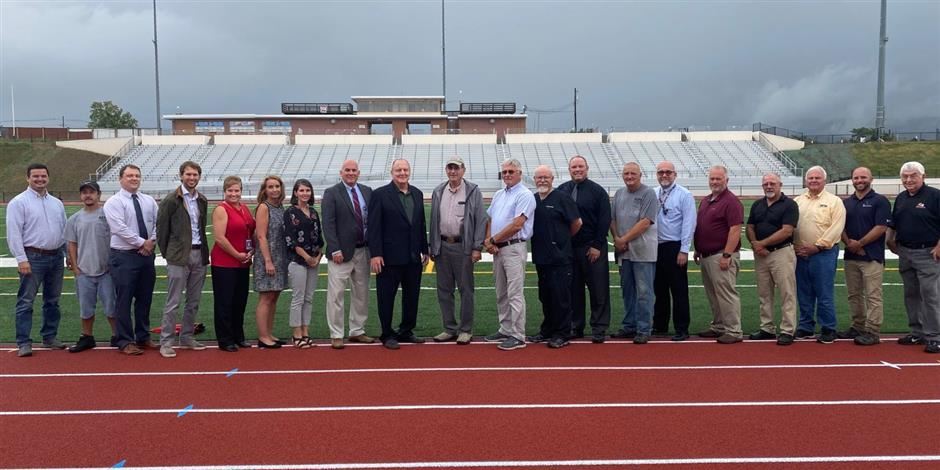 Joining Mr. Jeff Blank, ACPS Superintendent of Schools, at the stadium are pictured left to right: Dave Caporale, Allegany County Commissioner; Michael Flanigan, ACPS maintenance department; Jason Bennett, Allegany County Administrator; Jake Shade, President of the Allegany County Commissioners; Candy Canan, Principal of Fort Hill High School; Tracey Leonard, ACPS Supervisor of Athletics; Crystal Bender, President of the Board of Education; Jeff Blank; Mark Manges, Chair of the GASCIF; Senator George Edwards; Bob Farrell, school board member; Dr. David Bohn, school board member; Chuck Moran, Assistant Principal of Allegany High School; Brian Lippold, ACPS maintenance department; Larry McKenzie, ACPS Chief Finance Officer; Jay Marley, ACPS Supervisor of Maintenance and Construction; Jim Filer, Allegany County Department of Public Works; Brent Feight, President of Bushey Feight Morin Architects; Adam Rouse, Project Superintendent, Baltimore Contractors, Inc.; and Mark Widmyer, Western Maryland Representative for the Governor's Office.