Congratulations Brayden Conley - February 15, 2017 - Newest Bobcat!
Congratulations to Fort Hill senior, Brayden Conley who will be attending Frostburg State University in Fall 2017. Brayden will be a Criminal Justice
major,
but is also going to be the newest member of the FSU Bobcat Football program. He stated that he just wants to play football at FSU and said that, "Offense wins games, but Defense Wins Championships" is his new motto.
Head coach Todd Appel had this to say, "
Brayden Conley is a great example of a student who had high motivation to excel in the classroom because he played football. I asked Brayden today if he thought he would ever go to college if it wasn't for football, and he said, "No!"
with
a big quiet grin on his face.
Because Brayden enjoyed football and he was good at it, he wanted to give
himself
a great chance to go to college, so he also worked hard in school to meet all the college standards.
He did that and then some! He went from a 3.1429 GPA as a Freshman to a 4.0 as a Senior.
I am extremely happy for Brayden. He is a good kid who does his best to do as good as he can every day. He has been extremely focused on his goals and has achieved many, but IS going to achieve much more.
Brayden is a high Character kid who has a great family and friend support
system.
They are behind him 100% and
he,
in return, has always made them proud.
On the football
field,
Frostburg State is going to get a kid who never stops, and is relentless on the Defensive side of the ball. He has more sacks here at Fort Hill than anyone has had in history. 34!
He has great hand skills and quick feet which
makes
it very hard for offensive lineman to block him.
His work ethic is tremendous and all the success he has had is a direct result of the work he puts in during the off-season and behind the scenes.
It great to see a young man be rewarded for all of his hard work on and off the field. Brayden Conley is a good person who works extremely hard! It nice to see good people who work hard get good things they deserve!!"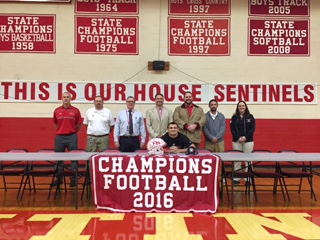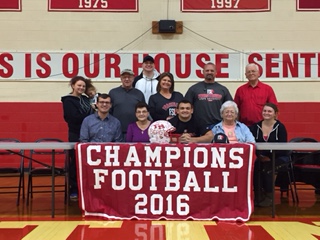 Picture 1: John McKenney, Jeff Brode, Joe Carter - Principal, Todd Appel - Head Coach, Shaun Lewis, Gavin Palumbo, Amber Waltz - Athletic Director
Picture 2: Back - Brooklyn Conley, Azaylea Conley, Joe Densock, Cory McCarty, Chere Conley, Matt Conley, Dave Conley Front - Hayden Conley, Sheila Densock, Brayden Conley, Anna Conley, Sydney Conley.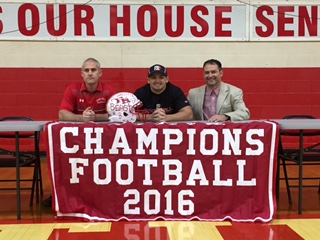 Picture 3: John McKenney - Line Coach, Brayden Conley, Todd Appel - Head Coach
Line Coach, John McKenney said this about Brayden: "He is a player that had a fantastic junior year and was able to come back and have a great senior year. It is hard to have a 2nd year better than your first but he did it. Everything he did was at 100% and he wouldn't ever take a play off. He is just impressive!"
The Frostburg State University Bobcats are part of the NCAA Division III Capital Athletic Association Conference.
---
NCAA Division I Signing - Brayden Brown - February 6, 2017
Congratulations to Fort Hill senior, Brayden Brown who signed his letter of intent to accept a football scholarship to attend the University of Connecticut surrounded by his family, coaches, administrators and teammates. Brayden will be a UCONN Husky in the fall of 2017, where he will major in Kinesiology. When asked about his experience Brayden said, "Thank you to the community for all the support and all the support I have been given over the last four years. I am excited to start at UCONN and look forward to working with the coaching staff there."
Coach Appel had this to say about Brayden: "Brayden Brown is the type of young man that is committed to doing everything right. He is a good person, and that is his best attribute. He works really hard to be the best possible person he can be, and he is a pretty good football player on top of that." He went on to say, "This is a young man that gets focused on academics, focuses on his family relationships, focuses on his friendships, and focuses on his teammates. He is the type of player that a coach doesn't have to worry about ego. I have been very blessed to have him for four years, and UCONN is fortunate to have a person such as him."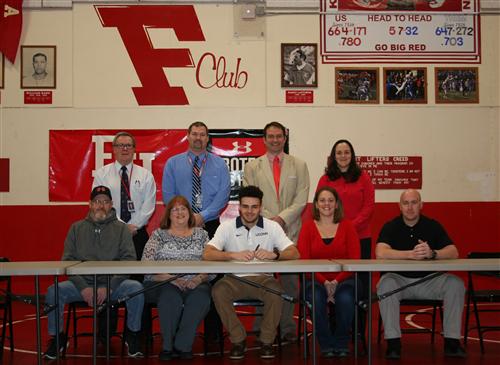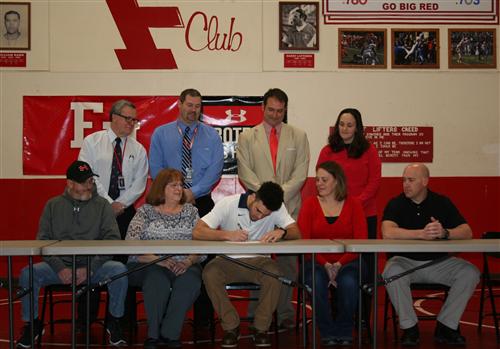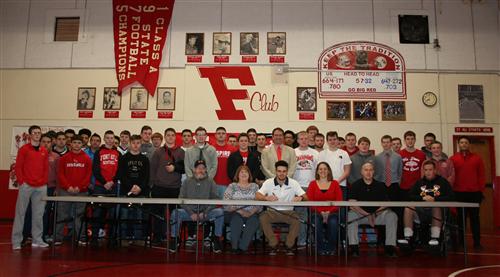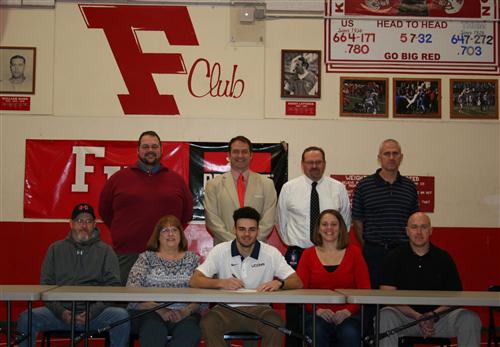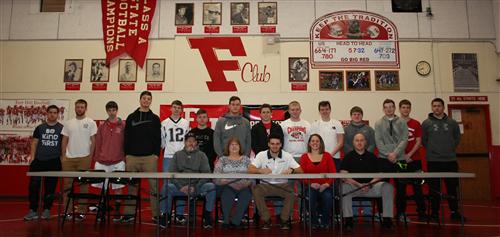 The UCONN Huskies are part of the NCAA Division I American Athletic Conference.
---
National Signing Day - Tyrae Barmore - February 1, 2017
Congratulations to Allegany High School, student-athlete, Tyrae Barmore! Tyrae signed his letter of intent to attend West Virginia Wesleyan beginning Fall 2017 on a dual academic/athletic scholarship where he will be pursuing a degree in Criminal Justice and playing football. Head football coach, Bryan Hansel stated, "Tyrae is a hardworking young man that has a ton of potential. He is going to excel at the next level and could be all-conference or All-American." When asked about the experience, Tyrae expressed, "I am just excited to start the next chapter in my football career and want to thank all my past coaches and my parents for their support."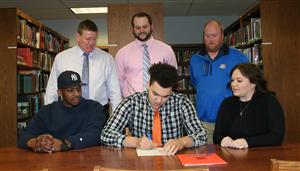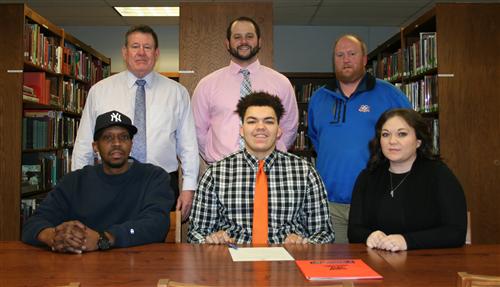 Pictured front row from left to right: Shawn Barmore, Tyrae Barmore, Sara Kinnie; back row: Mike Calhoun, Principal, Bryan Hansel, Football Coach, Duane McMinn, Athletic Director
The West Virginia Wesleyan Bobcats are part of the NCAA Division II - Mountain East Conference
---
Congratulations Daniel Hott!
Daniel Hott,
senior
at Fort Hill High School, signed his Student-Athlete Signing Form to play soccer for Waynesburg University on Tuesday, January 31, 2017. Seated with Daniel are his mother, Julie Hott, and his father, Jim Hott, who is also Fort Hill's Soccer Coach. Standing are Assistant Principal, Katie Buskirk; Principal, Joe Carter; Assistant Principal, Glenn Rice; Athletic Director, Amber Waltz; and Fort Hill Assistant Soccer Coach, Steve Wilkinson.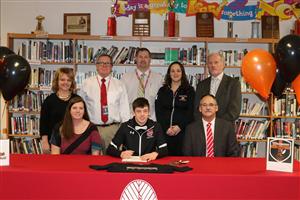 Waynesburg University is part of the NCAA Division III - Eastern College Athletic Conference
---
CONGRATULATIONS TO FORT HILL HIGH SCHOOL FOR WINNING THE MARYLAND CLASS 1A FOOTBALL CHAMPIONSHIP FOR THE 4TH CONSECUTIVE YEAR!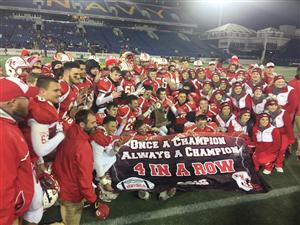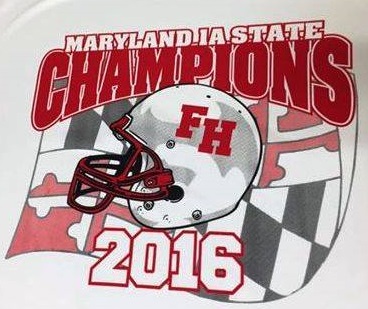 The coaching staff and team members will be celebrated at the January Board Meeting.
---
Allegany County high schools are members of the Maryland Public Secondary Schools Athletic Association and for the past fifty years have participated in the Western Maryland Interscholastic League made up of schools in Allegany and Garrett Counties. The three high schools serving the students in Allegany County have recently joined on as members of the Appalachian Mountain Athletic Conference (AMAC).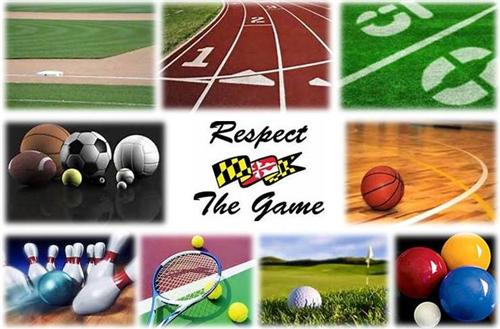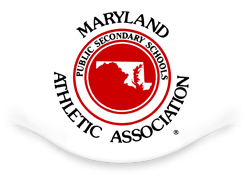 ---
There are 12 varsity interscholastic sports offered in Allegany County.
| | | |
| --- | --- | --- |
| FALL | WINTER | SPRING |
| Cross Country | Basketball | Baseball |
| Football | Bowling | Outdoor Track |
| Golf | Wrestling | Softball |
| Soccer | | Tennis |
| Volleyball | | |